Increasing access to good food is at the core of our mission to nourish a healthier, wealthier, and happier Detroit. This goal of access isn't only with regards to our most popular markets but resonates in all of our additional resources, programs, and partnerships as well. Below is more information on the programs that bring the food, culture, and camaraderie of Eastern Market to smaller communities throughout Detroit.
Thanks to the Detroit Lions for being our lead food access sponsor! We appreciate support from our other food access sponsors as well including Beaumont Health, Target, & more.
Food & Health Fellowship
Each year, Eastern Market Corporation hires around 15 Food & Health Fellows who assume hands-on responsibility for running our Food Assistance operations, Farm Stand program, Tasting Stations, and other market initiatives. The Fellowship program incubates participants in Michigan's regional food system and engages them with food justice issues in Detroit.
Farm Stand
We operate 20+ mobile pop-up Farm Stands each week from June through September; offering fresh produce and pantry items at sites all around Metro Detroit. Through relationships with community development organizations, corporate entities, health care systems, neighborhood farmers markets, and schools, the Farm Stand seeks to promote a culture of wellness in the City of Detroit and Southeast Michigan.
Tasting Stations
We've partnered with several Detroit-based independent grocery stores to promote increased produce consumption and healthy lifestyles. Most "Tasting Stations" are set up inside grocery stores near the produce department to promote healthy eating through the distribution of samples and recipe cards. We also help connect grocery store stores with our Wholesale Market.
We support the Detroit Community Markets, a network of neighborhood farmers' markets and alternative food distribution programs that work to improve healthy food access in the underserved areas in Detroit. Learn more at the Detroit Community Markets website.
GROW Eastern Market
GROW Eastern Market (GEM) is Detroit's locavore wholesale connection. The mission of GEM is to increase access to local produce by brokering farm-to-fork relationships with institutional buyers (chefs, restaurants, schools, grocery stores and other wholesale markets) to create and expand new market channels for Michigan's small and emerging growers. We like to think of GEM as: DIRT. DOCK. DOOR. We start with locally grown and harvested fresh foods from Michigan farms, they are brought to our loading docks, and finally to your chef's door… delicious!
For more information, visit GEM's website or Instagram page.
Ways to Pay
Bridge Card, Double Up Food Bucks, & Project FRESH
We make the Bridge Card easy to use at our public farmers markets. Bridge Card participants can receive more information about how to use their card at our markets at our Welcome Center or Shed 5 information booth.
Our Double Up Food Bucks program matches your Bridge Card purchases dollar-for-dollar (up to $20 per day), giving them an additional free $20 to spend on Michigan fresh fruits and vegetables. This program runs annually June through December.
Many of our Saturday Market vendors accept WIC Project FRESH and Senior Project FRESH coupons from June through October. Visits these websites to learn more: WIC Project FRESH and Senior Project FRESH.
The Fresh Prescription Program, sponsored by Saint Joseph Mercy Health, provides prescriptions redeemable for $10 of fresh, local fruits and vegetables each week at a partnering farm stand or farmers market. Patients can fill their prescription a total of 4 times over the course of the season ($40 total) and also receive nutrition education, cooking demonstrations and social support to make healthy eating changes.
Some of these benefits are also available at our Tuesday and Sunday Markets from June through September. Check in at our Welcome Center or Shed 5 information booth for more information.
Welcome Center Hours
Stop in to ask a question, get maps and recipes, or present your Bridge Card to receive tokens accepted at many vendors under the sheds.


Saturday 7am-4pm (year-round)
Tuesday 9am-3pm (June-Sept.)
Sunday 10am-4pm (June-Sept.)
District shops and restaurants are open after shed hours. Check our directory for specifics.

1445 Adelaide, Detroit, MI 48207 (between Sheds 2 and 3)

Get directions
Holiday Markets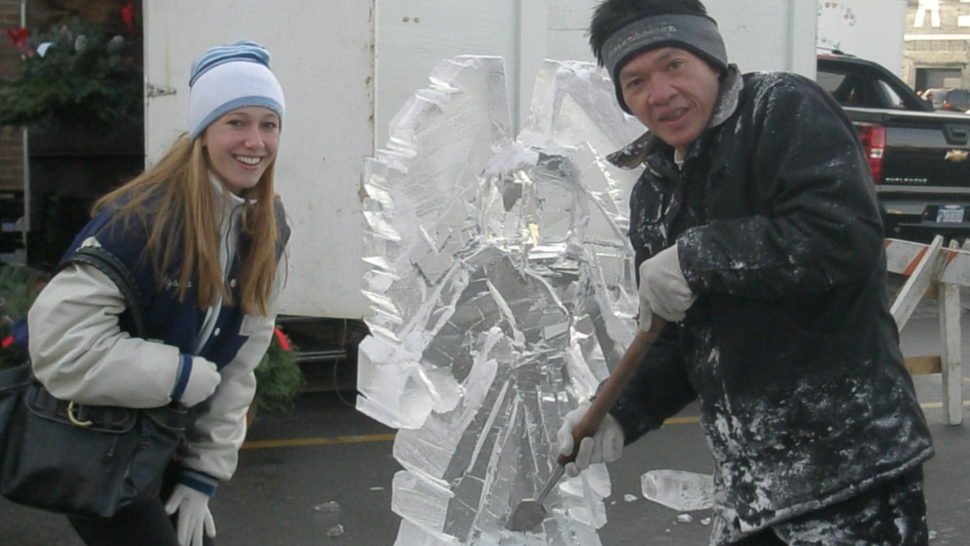 Our Tuesday holiday markets will feature foods your holiday meals and our Sunday holiday markets will feature trees, carolers, & a wonderful selection of locally sourced gifts.

Holiday Markets: Tues. 11/21 & 12/19,
Sunday 11/26, 12/3, 12/10, & 12/17
Santa will be at the market on Saturday, 12/9 & Sunday 12/10 - more info here!
Learn More
Detroit Kitchen Connect
Do you have a food business you'd like to get off the ground? We want to help you get there! We offer commercial kitchen space, technical assistance and workshops through our partnership with FoodLab Detroit.
Get Connected